Description
Free Shipping On Most Domestic Orders!***
3X Strength Omega 3-6-9 Fish Oil DHA EPA 990SG Made in USA FREE SHIPPING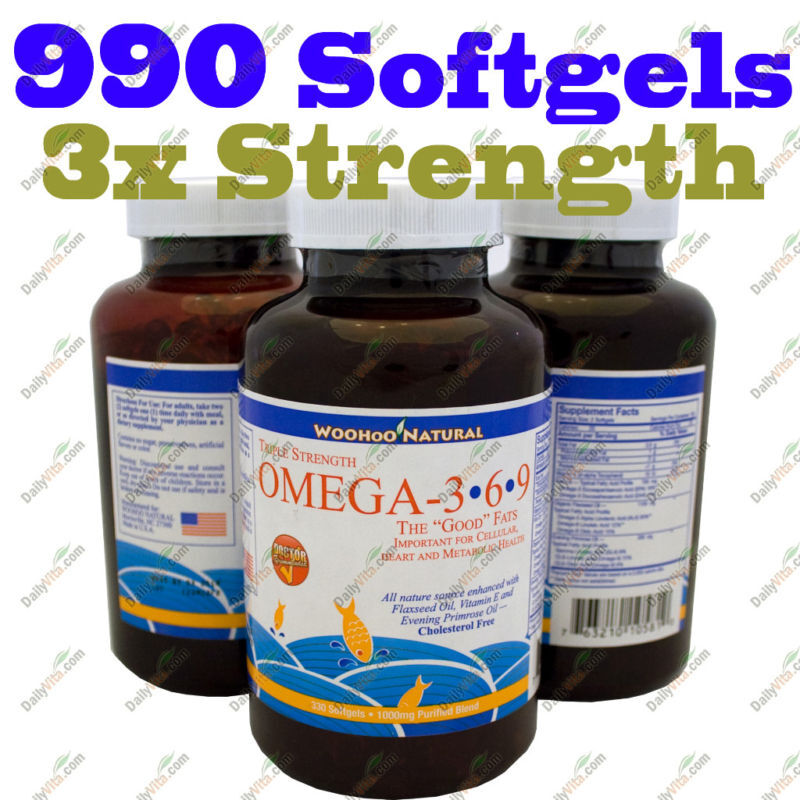 Total Count:


330 Each

MSRP:

$
49.99 Each

Condition:

New

Manufactured:

USA
Cardiovascular Support
Cholesterol Support
Skin Health
Description
WooHoo Natural Triple Strength Omega 3-6-9 is a blend of Fish, Organic Flaxseed Oil, and Evening Primrose Oil. This combination of well-known nutritional oils provides a unique balance of Omega-3 and Omega-6 Essential Fatty Acids plus Omega-9, a non-essential, but beneficial fatty acid.
Recommended Use: For adults, take 2 softgels daily with meals as a dietary supplement, or as directed by your physician.
Made In U.S.A
*This statement has not been evaluated by the Food and Drug Administration.
This product is not intended to diagnose, treat, cure or prevent any disease. Keep out of the reach of children. Store in a cool dry place, tightly closed.
Supplement Facts

Serving Size: 2 Softgels
% Daily Value
Total Fat
2.0 g

3%

Polyunsaturated Fat
1 g

*

Monounsaturated Fat
.3 g mg

*

Protein

2%

Vitamin E (as d-alpha Tocopherol)
10 IU

34%

Fish Oil – Typical Fatty Acid Profile
700 mg

*

Omega-3 Eicosapentaenoic Acid (EPA)
18% *
Omega-3 Docosahexaenoic Acids (DHA)
12%*

*

Organic Flaxseed Oil – Typcial Fatty Acid Profile
1100 mg

*

Omega-3 Alpha Linolenic Acids (ALA)
50%*

*

Omega-6 Linoleic Acids
12%*

*

Omega-9 Oleic Acid
15%*

*

Evening Primrose Oil – Typcial Fatty Acid Profile
0 mg

*

Gamma Linoleic Acid (GLA)
9%*

*

CLS-Linoleic Acid (Omega-6) Acids
72%*

*

CLS-Oleic Acid (Omega-9)
8%*

*