Description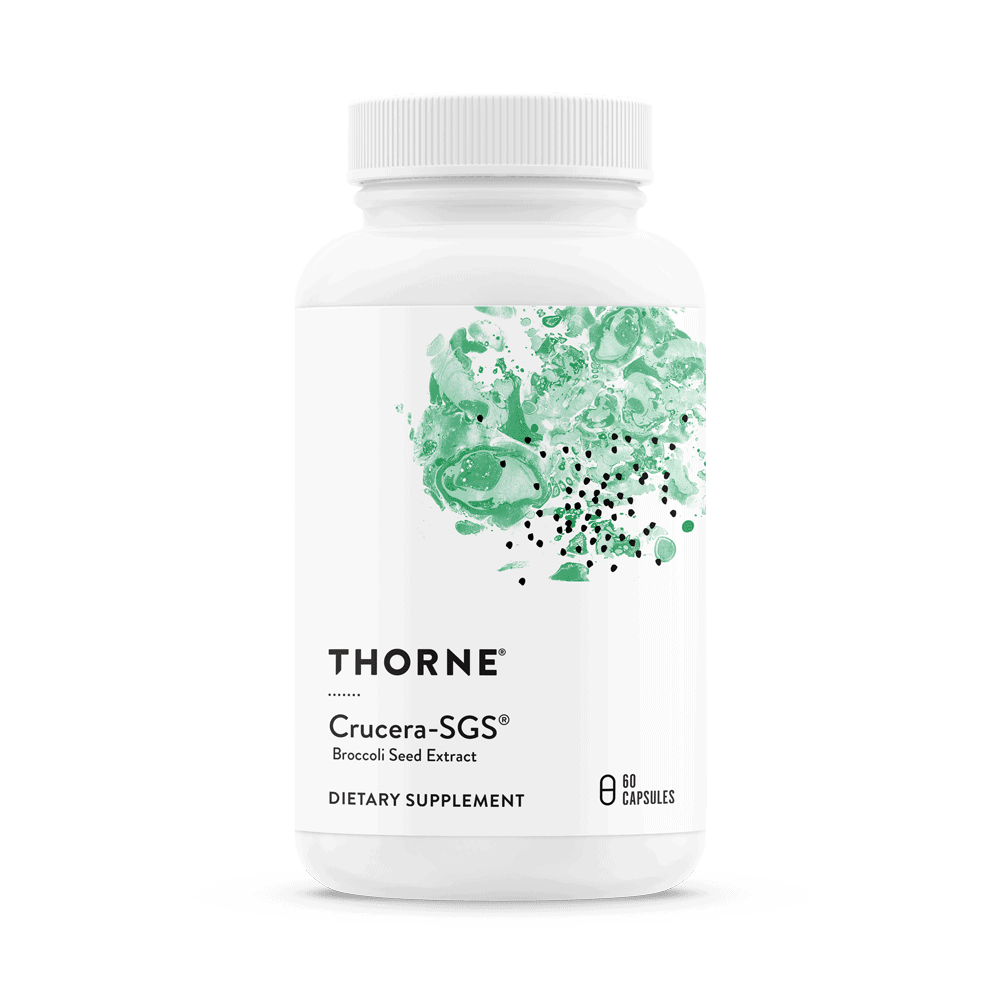 THORNE Crucera-SGS® Broccoli Seed Extract – 60 vegetarian capsules
Crucera-SGS offers the chemo-protective properties of sulforaphane glucosinolate (SGS) to provide cells with long-lasting protection from free radical damage and to support liver detoxification.*
Sulforaphane glucosinolate (SGS) is a natural substance extracted from the seeds and sprouts of select broccoli varietals. It is an indirect antioxidant that provides long-lasting cell protection from free radical damage.* Typical antioxidants, such as vitamin C, vitamin E, and beta carotene, work "directly" to neutralize free radicals and are usually effective for only approximately three hours after ingestion.* When Thorne's Crucera-SGS is ingested and begins to break down in the gut, it releases sulforaphane, thereby activating the body's natural detoxification and antioxidant enzymes and providing protection to cells from free radical damage for several days.* Each capsule of Thorne's Crucera-SGS is equivalent to eating two pounds of cooked broccoli.*
Sulforaphane was first identified in 1992 by researchers at Johns Hopkins University School of Medicine and is now believed to be the key component of many of the health benefits attributed to cruciferous vegetables, such as broccoli, cabbage, cauliflower, and kale.* Research on sulforaphane has produced more than 500 journal articles over the past two decades.
Dosage
Take 1 capsule one to two times daily or as recommended by your health professional.
Ingredients Table
Container: 60 vegetarian Capsules
Serving Size: 1 Capsule
Servings per Container: 60
Form: vegetarian capsule
Ingredients
Content in a portion
in 100 g
% RDA
Sulforaphane Glucosinolate (from Broccoli extract (seed))
50 mg
Other ingredients
Hypromellose (derived from cellulose) capsule, Microcrystalline Cellulose, Calcium Laurate, Silicon Dioxide.
About the brand
Thorne Research is an American brand of dietary supplements and sports nutrition. The company's philosophy is not only to support athletes, but above all to take care of the condition and the efficiency of our body. Thorne Research is supplements that support, regulate and restore balance to our organs. The offer includes several well-known nutrients like creatine, protein nutrients in the form of powders or amino acid complexes. A large part of the Thorne Research products, however, are complex compositions designed to support immunity or restore balance in the various systems of the human body. Thorne dietary supplements will ensure that our body does not lack the necessary vitamins and minerals when we are exposed to their deficiencies.
Sport-Ernährung uns nahrungsergänzungsmittel
Andere Artikel »
© 18 – All rights reserved! / Design:
Art Delarte