Description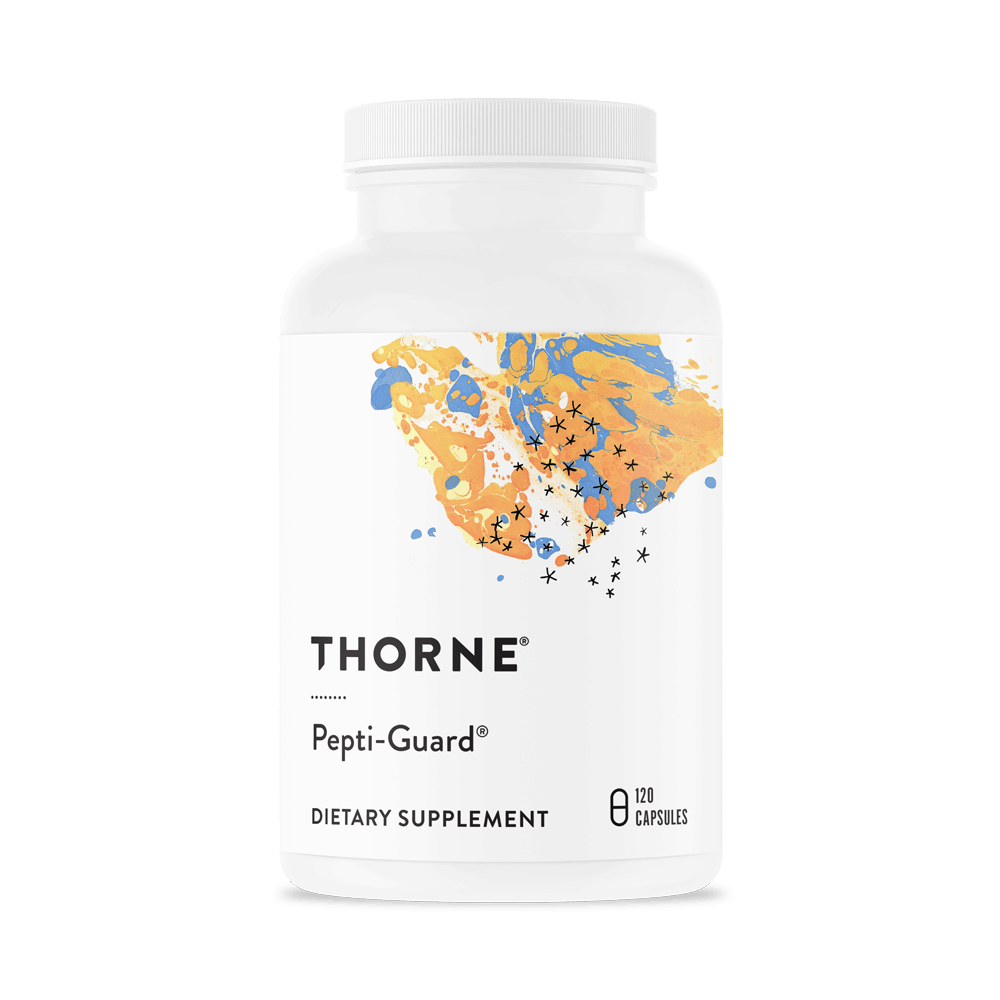 THORNE Pepti-Guard (Stomach Support) – 1 vegetarian capsules
THORNE Pepsi-Guard – 1 caps
Pepti-Guard has a particular affinity for the health of the stomach. It is formulated to specifically support the desirable flora found in the upper gastrointestinal tract.
Thorne's Pepti-Guard is formulated to specifically support the desirable flora found in the upper gastrointestinal tract, particularly in the stomach. Its formula contains deglycyrrhizinated licorice and organic aloe vera for their GI-healing properties. Only high-quality aloe vera from the inner gel of the aloe plant is used because it soothes and heals the sensitive mucus membranes of the GI tract without causing gastric upset or a laxative effect. Berberine hydrochloride and bismuth citrate help provide a healthy microbial balance. The easy eight-week protocol requires just four capsules a day.
Pepti-Guard utilizes DaltonMax 700®, the highest quality aloe vera extract on the supplement market.
These are its key advantages:
– It is extracted only from the plant's inner fillet gel, so it has no laxative or irritating effects*
– The low-heat extraction process preserves its bioactive ingredients
– 0:1 strength provides optimal benefit
– It is organic and solvent-free for maximum purity
Dosage
2 capsules two times daily between meals for a maximum of eight weeks, or as recommended by your health professional.
Ingredients Table
Container: 1 vegetarian capsules
Serving Size: 2 capsules
Servings per Container: 60
Form: vegetarian capsule
Ingredients
Content in a portion
in 100 g
% RDA
Deglycyrrhizinated Licorice (DGL) extract (root) (Glycyrrhiza sp
400mg
Bismuth Citrate
240mg
Aloe Vera (Gel, dehydrate powder) (Aloe barbadensis)
0mg
Berberine HCl (from Indian Barberry extract) (root)
0mg
Other ingredients
Hypromellose (derived from cellulose) capsule, Leucine, Silicon Dioxide.
About the brand
Thorne research is an American brand of dietary supplements and sports nutrition. The company's philosophy is not only to support athletes, but above all to take care of the condition and the efficiency of our body. Thorne research is supplements that support, regulate and restore balance to our organs. The offer includes several well-known nutrients like creatine, protein nutrients in the form of powders or amino acid complexes. A large part of the Thorne research products, however, are complex compositions designed to support immunity or restore balance in the various systems of the human body. Thorne dietary supplements will ensure that our body does not lack the necessary vitamins and minerals when we are exposed to their deficiencies.
Sport-Ernährung uns nahrungsergänzungsmittel
Andere Artikel »
© 18 – All rights reserved! / Design:
Art Delarte