Description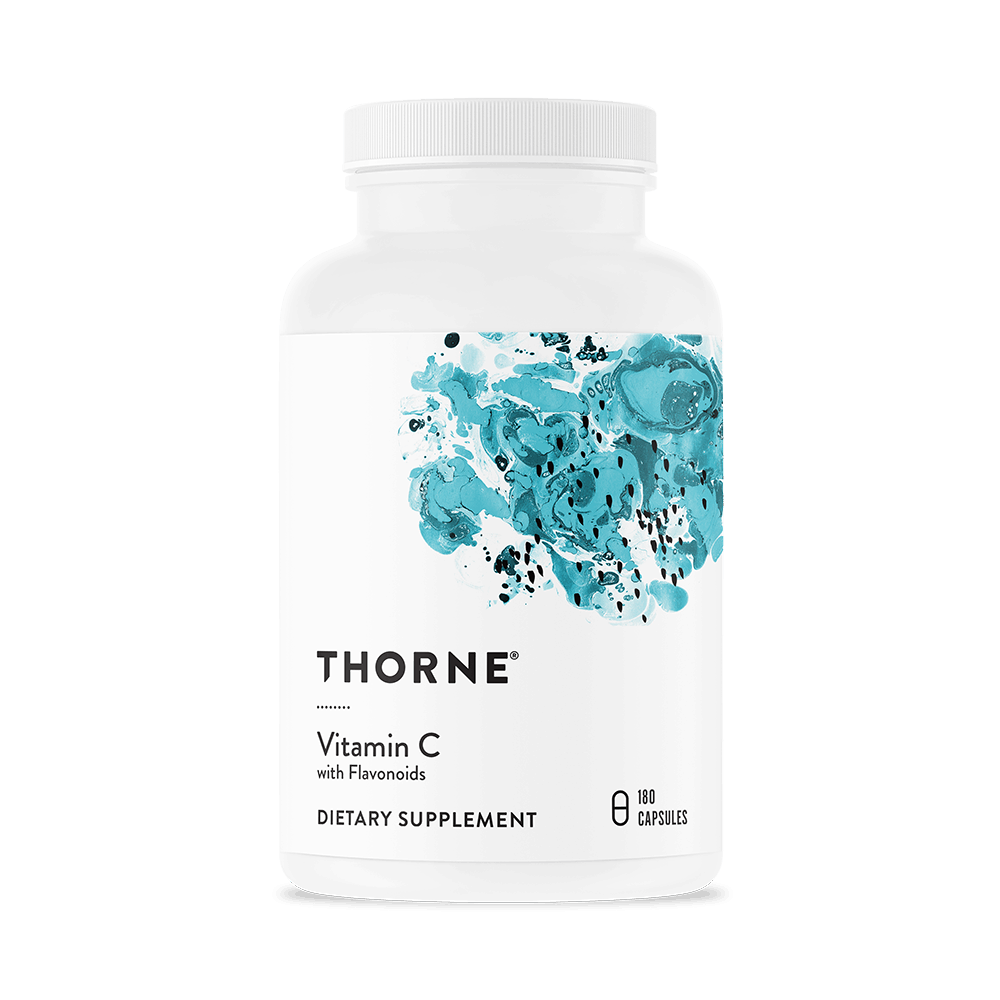 THORNE Vitamin C with Flavonoids – 180 vegetarian capsules
Vitamin C with citrus bioflavonoids from oranges – the way they're found in nature
Vitamin C with flavonoids optimizes the beneficial effects of vitamin C – including support of immune function and promotion of wound healing – by replicating the way it's found in nature.*
Vitamin C (ascorbic acid) is a key antioxidant, protecting cells throughout the body from free radical damage.* It plays an integral role in the production of cellular energy, and is essential for the proper metabolism of carbohydrates and the synthesis of fats and proteins.* Vitamin C also helps break down cholesterol, promotes wound healing, and helps maintain healthy immune function.* Thorne's Vitamin C with Flavonoids contains ascorbic acid and citrus flavonoids. The flavonoids are a mixture of naturally-occurring flavonoids, including rutin, hesperidin, and quercetin. And there is no corn starch contained in this supplement, as it is in many other vitamin C supplements. Although ascorbic acid will work in the body without flavonoids, it works better when accompanied by flavonoid molecules, because the bioflavonoids spare vitamin C, thus providing greater antioxidant capacity.*
Vitamin C is an essential, water-soluble antioxidant that can enhance collagen stabilization.* A vitamin C deficiency can result in poor collagen cross-linkage and weaker connective tissue.* Vitamin C promotes wound healing because it is a cofactor in the synthesis of collagen and other connective tissue components.*
Because bioflavonoids have some of the same mechanisms of action as vitamin C, they can potentiate the effect of ascorbic acid.* Vitamin C and bioflavonoids both support immune function, connective tissue formation, cellular energy production, and antioxidant activity.* Factors dictating a need for higher vitamin C intake include smoking, alcohol ingestion, stress, diabetes, environmental toxicity, and the use of certain medications.*
Vitamin C also serves as a cofactor in the synthesis of important neurotransmitters in the body, such as dopamine and norepinephrine.*
Dosage
Take 1 capsule one to three times daily or as recommended by your health professional.
Ingredients Table
Container: 180 vegetarian capsules
Serving Size: 1 capsule
Servings per Container: 180
Form: Vegetarian capsules
Ingredients
Content in a portion
in 100 g
% RDA
Vitamin C (as Ascorbic Acid)
500 mg
556%
Citrus bioflavonoids
75 mg
Other ingredients
Hypromellose (derived from cellulose) capsule, Silicon Dioxide.
About the brand
Thorne Research is an American brand of dietary supplements and sports nutrition. The company's philosophy is not only to support athletes, but above all to take care of the condition and the efficiency of our body. Thorne Research is supplements that support, regulate and restore balance to our organs. The offer includes several well-known nutrients like creatine, protein nutrients in the form of powders or amino acid complexes. A large part of the Thorne Research products, however, are complex compositions designed to support immunity or restore balance in the various systems of the human body. Thorne dietary supplements will ensure that our body does not lack the necessary vitamins and minerals when we are exposed to their deficiencies.
Sport-Ernährung uns nahrungsergänzungsmittel
Andere Artikel »
© 18 – All rights reserved! / Design:
Art Delarte