Description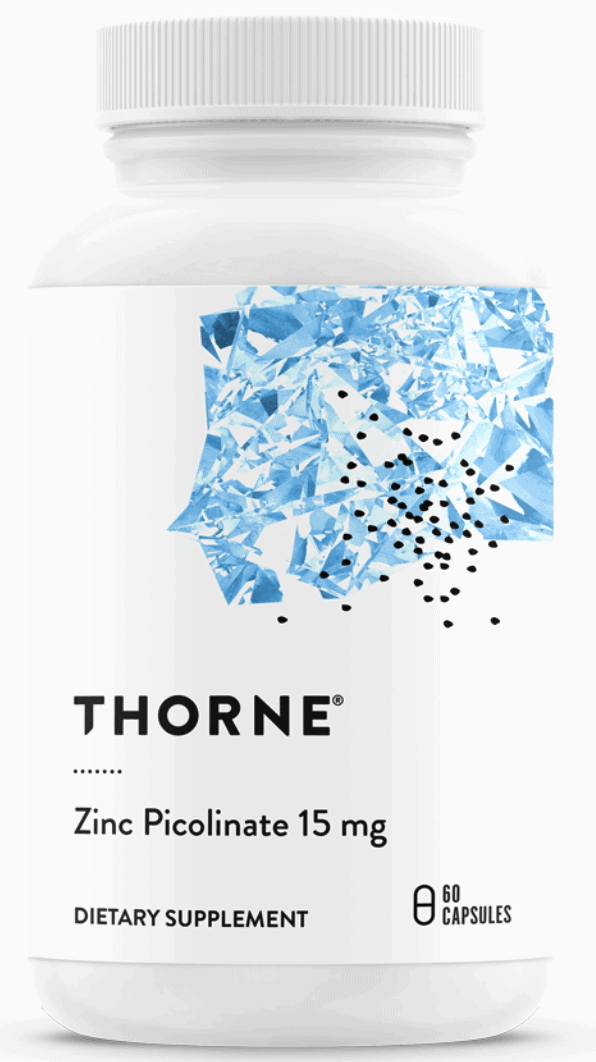 THORNE Zinc Picolinate – 15mg 60 vegetarian caps
THORNE Zinc Picolinate – 15mg
Zinc is essential for growth, immune function, e metabolism, and numerous other functions in the body.* Zinc is involved in more than 0 enzymatic reactions and plays a key role in genetic expression, cell division, and growth.* Clinical studies demonstrate zinc supplementation can increase general wellness, and that it has a beneficial impact on connective tissue, as well as reproductive and eye health.* However, not all zinc supplements are absorbed efficiently by the body. Picolinic acid is a natural mineral chelator produced from the amino acid tryptophan in the liver and kidneys, and then transported to the pancreas. During digestion, the picolinic acid is secreted from the pancreas into the small intestine, where it binds to minerals, such as zinc, to facilitate the mineral's absorption.*
Individuals susceptible to zinc deficiency include the elderly, the immuno-compromised, those on parenteral nutrition, burn victims, and athletes.* Adequate Zinc levels are needed to support the body's normal production of e, a hormone essential for promoting lean muscle mass .
Dosage
Take 1 capsule daily or as recommended by your health professional.
Ingredients Table
Container: 60 vegetarian capsules
Serving Size: 1 vegetarian capsule
Servings per Container: 60
Form: vegetarian capsule
Ingredients
Content in a portion
in 100 g
% RDA
Zinc (as picolinate)
15mg
150%
L-leucine
mg
Other ingredients
Zinc (as zinc picolinate)
Other ingredients: microcrystalline cellulose, capsule with hypromellose (derived from cellulose), leucine, silicon dioxide.
About the brand
Thorne research is an American brand of dietary supplements and sports nutrition. The company's philosophy is not only to support athletes, but above all to take care of the condition and the efficiency of our body. Thorne research is supplements that support, regulate and restore balance to our organs. The offer includes several well-known nutrients like creatine, protein nutrients in the form of powders or amino acid complexes. A large part of the Thorne research products, however, are complex compositions designed to support immunity or restore balance in the various systems of the human body. Thorne dietary supplements will ensure that our body does not lack the necessary vitamins and minerals when we are exposed to their deficiencies.
Sport-Ernährung uns nahrungsergänzungsmittel
Andere Artikel »
© 18 – All rights reserved! / Design:
Art Delarte