Description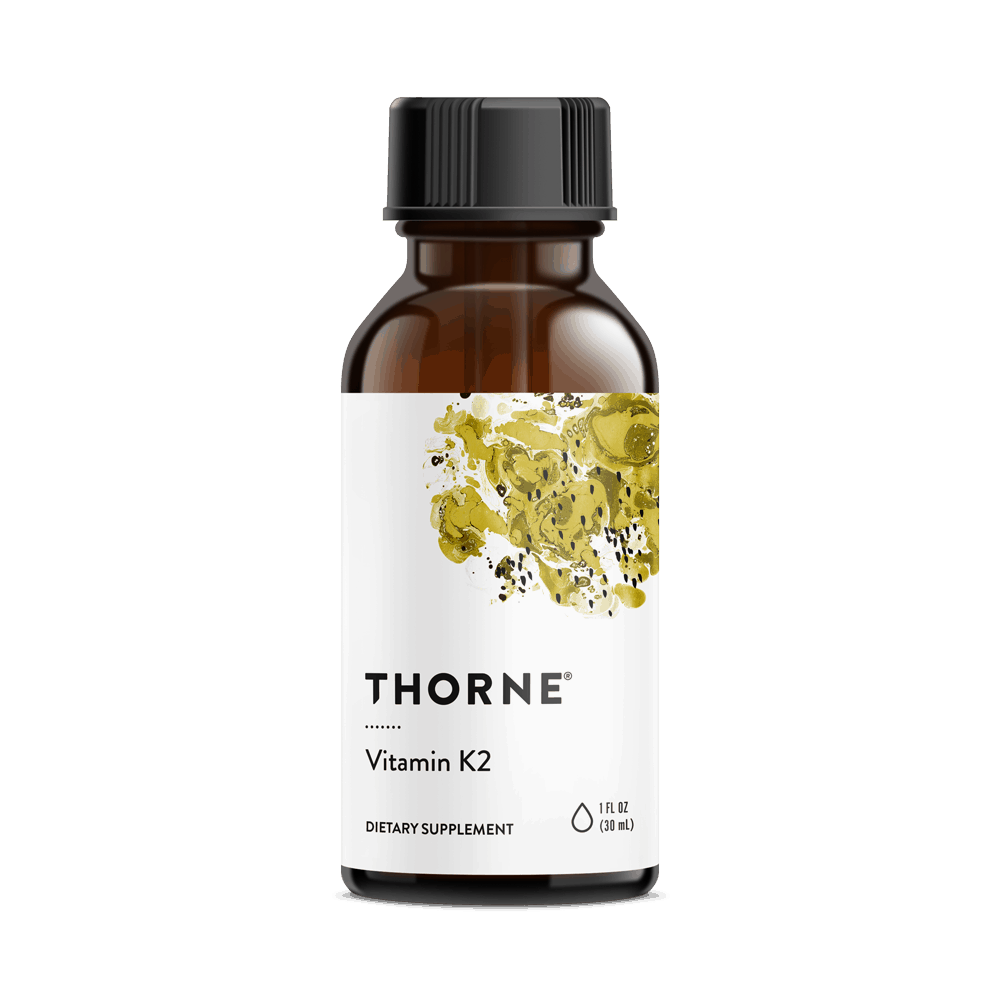 THORNE Vitamin K2 (MK-4 Liquid) 30ml
Vitamin K2 (as MK-4) exerts a more powerful influence on bone health than vitamin K1.* K2 also supports heart and blood vessel health.* It comes in a metered bottle for ease of use.
Vitamin K2 offers significant benefit for supporting bone health – more than vitamin K1.* Although vitamin K2 offers well-recognized postmenopausal bone support, because it has no estrogenic effects it also provides support to other populations as well, including anorexics, dialysis patients, individuals with Parkinson's disease, those who have cirrhosis of the liver, individuals who have had a bone marrow transplant, those immobilized after a stroke, and individuals on chronic steroid therapy.* Vitamin K2 also supports a healthy heart and blood vessels.* Thorne's vitamin K2 supplies 1 mg of vitamin K2 per drop. Research shows that 15 mg three times daily can be safely used.* The concentrated liquid and the bottle's metered dispenser make use easy and convenient.
Vitamin K2 provides support for blood vessel health by its role in better enabling the body to move calcium to the bones, which keeps the calcium out of the soft tissues, such as the blood vessels and the kidneys.* Thorne's Vitamin K2 Liquid supplies 1 mg of vitamin K2 per drop.
Dosage
Take 15 drops one to three times daily or as recommended by your health professional. Invert bottle to dispense individual drops. May be added to food or mixed in beverages. Do not refrigerate.
Ingredients Table
Container: Liquid 30ml
Serving Size: 15 drops
Servings per Container: 80
Form: Liquid
Ingredients
Content in a portion
in 100 g
% RDA
Vitamin K (as K2 MK4)
15 mg
Other ingredients
Medium Chain Triglyceride Oil, Mixed Tocopherols.
About the brand
Thorne Research is an American brand of dietary supplements and sports nutrition. The company's philosophy is not only to support athletes, but above all to take care of the condition and the efficiency of our body. Thorne Research is supplements that support, regulate and restore balance to our organs. The offer includes several well-known nutrients like creatine, protein nutrients in the form of powders or amino acid complexes. A large part of the Thorne Research products, however, are complex compositions designed to support immunity or restore balance in the various systems of the human body. Thorne dietary supplements will ensure that our body does not lack the necessary vitamins and minerals when we are exposed to their deficiencies.
Sport-Ernährung uns nahrungsergänzungsmittel
Andere Artikel »
© 18 – All rights reserved! / Design:
Art Delarte